disposable container mold supplier
Taizhou Lihao Mould Co.,Ltd is known as thin wall container mold expert all over the world. Disposable container mold supplier supplys disposable thin wall container mold, disposable fast food box mold, disposable container mold solution and so on.
A good disposable container mold must be should:
1. A high capacity mold suitable for highest injection speed as it can, and with longest life time. Disposable container mold supplier ganrantees our mold life 5 millions shots, our container mold cycle time is about 4-5S.
2. A good mold shoud be very easy for maintain. During our design, we consider our customer situation in priority
3. A mold which can moulding the accurate parts dimensions. Disposable container mold supplier continuously introduce high precious tooling equipments, like OKK high speed CNC. DKFUS surface-grinding machine, Takisawa CNC lathe and so on.
4. A mould with humanization design. The key point of thin wall container mold is the shortest cycle time, the mold must be with very good cooling system.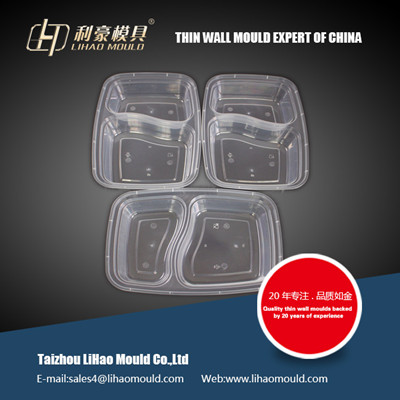 Disposable container mold supplier exports our high quality molds to global market with shortest delivery time and reasonable price. If you have any interetsed in thin wall mold, welcome to inquiry us.
Post by Bonnie
Mail: sales4@lihaomould.com